SAS Hard Disk Drives made their way to the market back in 2004. It has been 11 years and these storage devices have, and continue to see a healthy product life cycle. SAS HDDs are seen in multiple segments of the market, including Nearline, 10KRPM, and 15KRPM. Customers who have implemented with Serial Attached SCSI (SAS) devices like the dual port functionality and robust protocol that comes with SAS.
Many of these same customers have embraced SAS SSDs with the same thought process. SAS SSDs, from a percentage perspective, continue to she good, solid growth each quarter as SSD adoption rates in the enterprise segment continue to rise. SAS SSDs are not getting squeezed out by the incursion of SATA on the low end and PCIe on the high end as many have thought would happen.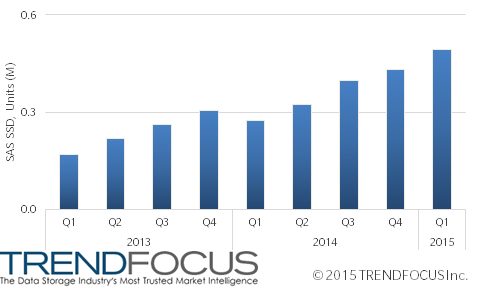 Storage Networking companies have seen their SAS SSD supplier base expand, and also develop various types of SAS SSDs with varying workload parameters. SAS SSDs started out with endurance metrics of up to 25 Drive Writes Per Day (DWPD).  Today, multiple vendors are now offering Read Intensive SAS SSDs as low as 1 DWPD, and multiple offerings in between. These lower workloads allow the SSD vendors to sell the SAS SSD devices at much lower prices vs. their initial offerings at 25 DWPD. Although pricing is not as low as SATA SSDs at the same endurance level, Storage Networking companies have come to know and appreciate the benefits that come with this price premium for SAS SSDs.
As with many other storage devices and interfaces, both vendors and customers have found a way to expand an existing connector and protocol into various applications and server and storage environments. SAS SSDs are no different. TRENDFOCUS sees the success of SAS continue for quite some time!
For more information on SAS SSDs, or any other storage devices, both HDD and SSD, please contact TRENDFOCUS at info@trendfocus.com.